Glass is very much like water. In my pieces, I often used this quality to create the illusion of "capturing" a river fragment. Sometimes a river that was still fresh and alive, sometimes water that was almost dead and sometimes a frozen river fragment. In this class we will achieve this "magic" together through the "open-faced mold" kiln casting technique and the process called "absences". We will compose a riverbed scene, then we will drop liquid rubber in it to get a positive model and then we will make a mold of it in the most adequate way. After appropriate drying, we will fill it with glass and fuse it. We will work with enough thickness as to create a very realistic illusion of water.

Goals:
Develop a new vision of the glass possibilities when it works in transparency, showing us "what's hidden"…like it was a mirror where you could "look through." Understand glass behavior while it melts inside a complex mold. We will study the most adequate firing schedules to understand their logic. Achieve the best possible result following our creative intention. We will seek highest possible quality (technical and aesthetical) in the maximum respect of the glass "needs".

Class plan:
11 days class. 50 hours in 8 days of studio time. Fifth day off for sightseeing in the area. Ninth and tenth days off: Optional trip to Cinque Terre & Portofino.
Materials:
We will work with Bullseye Glass 90. (Sheets, frits and billets) Each student will have detailed firing schedules and a description of the process developed in the class. All materials are included.

Other activities:
On dates August 28, 30 and September 1.
Cooking lessons with dinner (see description on "Side Activities")
5:00 PM to 7:00 PM
Total price: 180 Euro.

Two days tour to Cinque terre & Portofino (Liguria)
Price: 300 Euro (see all details in "Side Activities" )

Free activities:
Wine Tasting with fresh finger food; Casteggio Street market, sightseeing in the hills and visit of ancient Abbey of St.Alberto.
Requirements:
Basic knowledge of fused glass processes.

Fees:

Option 1Class with accommodation in Apartment or House in our Village  (single room, shared bathroom, kitchen, see "Housing in Mornico Losana")
1.660 Euro (included 22% taxes)


Option 2 *Class with accommodation in B&B Gli Acini, (single room, private bathroom, restaurant)
1.780 Euro  (22% taxes & transport service).


Option 3 * Class and accommodation in Hotel Le Vigne di Corvino (***) Private big single room, TV sat, private bathroom, air conditioning, breakfast included. Restaurant a-la-carte in the hotel. Transportation service included.
2.068 Euro Standard room
(22% taxes and transportation service are included).



Option 4
1.300 Euro Class price without housing




* Request quote for accommodation in double room.
All accommodation is subject to availability.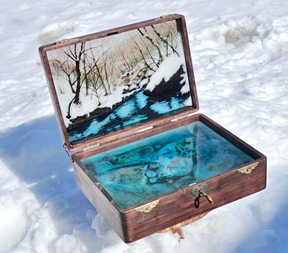 110 Euro discount on class fees for students who have already been in my classes here in Italy or to those who apply to more of one class.
Fee includes:
Housing for 12 nights.
All materials and class notes, Tea & coffee, cookies and fruit always available in studio.
"Welcome breakfast" the first day. Cappuccino and Croissant breakfast during the visit to the street market. 8 lunches in the terrace with spring water and local wines; 1 traditional dinner; 1 wine tasting with fresh finger food. 1 picnic lunch; 1 dinner "Pizza Night"; spring water.

Other services included:
Transportation to/from Voghera Station. Transportation to/from your eventual housing location outside the village. Two trips to the supermarket for grocery shopping. Transport expenses and expert guide during the outing to the hills.