The Cinque Terre is a group of five fishing villages, clinging to the imposing limestone cliffs looking to the Mediterranean Sea. The millennial work of farmers has carved the mountain in myriad of terraces where the lush olive tree thrives. Narrow multicolored houses cling to each other in the typical defensive structure of European villages, telling the ancient history of barbarian invasions by sea and by land and the difficult struggle for survival. Today these villages and their turquoise sea are a destination for international tourism and they have been protected and safeguarded in 1999 by the institution of the Cinque Terre National Park.

Sestri Levante is a splendid seaside location known throughout Italy as the "city of the two seas" because thanks to its particular geographic conformation it overlooks two beautiful "gems" of the Ligurian Sea: the Baia delle Favole (Fairy Tales Bay) and the Baia del Silenzio (the Bay of Silence). The beach is framed by the old fisherman's houses and dominated by the rocky promontory of the isthmus. These details make visiting Sestri Levante a truly exciting experience.
From the center of Sestri Levante the view sweeps over the beautiful Ligurian Riviera that goes towards "Levante" and faces east on the Gulf of Tigullio. Between the two famous bays and the isthmus of the river the typical old town has developed over the centuries, while the most recent part occupies the surrounding plain.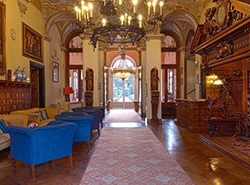 After a short trip from Mornico (about two hours), we'll reach Sestri Levante and the fantastic building of the Grand Hotel Villa Balbi, where we will stay for the night. It is a seventeenth-century villa that have been home of noble and aristocratic families, witness of historical events and the stay of famous people. Then we'll wander around the charming old town, greet the sea (and why not, take a bath!), taste the delicious "torte salate" (traditional pies) and the famous "Focaccia di Recco" (cheese bread). We'll walk through its narrow alleys, wandering through the little shops and relax sitting on the gentle sands of the Bay of Silence, looking west...to one of "places of heart". Watching the sunset from this spot is unforgettable.

The next morning, a very short train ride will take us to Monterosso, the first and biggest village of the Cinque Terre. After visiting the village, relaxing near the sea, we will take the boat and visit the wonderful places of the Cinque Terre: Vernazza, Riomaggiore and Manarola, enjoying their beauty from the sea and exploring each village.

In the late afternoon, we will return to Mornico, with eyes and heart filled with the beauty of the Mediterranean.
Price: € 380

Group minimum size: 4

The price includes all transport and boats, one night in the historical Grand Hotel Villa Balbi in Sestri Levante (****) in double room, breakfast included, company of expert guide. (No other meals included)