In this class I am proposing to my students to follow the "same path I walk" when I create a piece. We will go visit the nearby Ticino River, to observe, photograph and feel the essence of the Landscape we will work on.
Then, the students will learn how to create a "translation in Glass" of an image of the river landscape, chosen among the photos taken. The whole process is done in "glass with glass", even adding to it stunning optical depth. Students will be guided step by step in order to have a clear view of the main process used in the Di Fiore's Technique.
Class size: 4 to 6 students

Goals:
Understand the technical process and the potential of this technique. Training of the sight to catch the different optical levels of the image. Get a deeper perception about Glass behavior to improve the relationship between the students and the material and apply this particular process to improve their Art. Cold working and possible setting processes will be explained and discussed in the class.
Class plan:
9 days class. 7 days working in studio. 1 day for outside class at the Ticino River, to observe and photograph the riverside forest, its water effects, shapes and light. Fifth day off to visit and enjoy the beauty of the surroundings.
Eighth day off (possible tour to Portofino).

Materials: We will work with Bullseye Glass 90. Each student will have detailed firing schedules and a description of the process developed in the class. All materials are included.

Side activities:
Cooking lessons & dinner (see details in "Side Activities")
5:00PM to 7:00PM
Total price: 200 Euro

One day tour to Portofino (Liguria)
Price: 100 Euro (see details in "Side Activities")

Free activities:
Visit of the amazing Charthouse of Pavia. Sightseeing in the hills & abbey of St. Alberto. Daily lunches in the terrace, with spring water and local wines and "Welcome breakfast" on first day.
Requirements: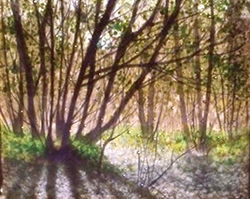 This technique is complex. To best enjoy this class, it's important to have previous experience in fusing processes (basic knowledge about compatibility, annealing, reactivity, devitrification) Some ability to draw and paint is essential because glass is used like a kind of watercolor painting, and the image needs to be "seen" as "divided" in several sequential plans of optical levels.

Class fee (without housing):

Housing options & total rate for 10 nights:
For further info see "Housing and food in Mornico Losana"
Option 1Accommodation in single room, shared bathroom in apartment in Miriam's House
300 Euro (taxes included)


Option 2 Renting a house in our village
600 Euro  (taxes included - suitable for sharing with another student)


Option 3 Renting the mini apartment "La Forneria" in our village.
350 Euro Standard room (taxes included).


Option 4
Accommodation in B&B Gli Acini, (single room, private bathroom, restaurant)
350 Euro (taxes and breakfast included)


Option 5
Accommodation in Hotel Le Vigne di Corvino***
690 Euro Superior Room (taxes and breakfast included)


All accommodation is subject to availability.
120 Euro discount on class fees for students who have already been in my classes here in Italy or to those who apply to more than one class.
Fee includes:
All materials and class notes, tea & coffee, cookies, fruit and spring water always available in studio. A traditional dinner in the hills; a "Pizza Night". A lunch in an Organic Farm near the river. Wine tasting with fresh finger food.

Other services included: Transportation to/from Voghera Station. Two trips to the supermarket for grocery shopping. Transport expenses and expert guide during the outing to the hills.